Dani Rakoff is our resident travel expert with many years experience operating a wide range of exotic tours. He now lives in Israel but that doesn't stop him from organizing exciting trips overseas. Dani offers kosher safari tours in Africa, having spent much time showing his tourists the amazing sights and sounds of this vast continent. Don't be shy to consult Dani whenever you are considering a tour that can be a rewarding experience of a lifetime.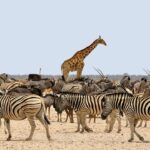 Are you going on safari for the first time? It can be really daunting to decide where to go unless you have a reasonable idea of which countries and parks have the greatest numbers of your favourite wildlife. Animal densities vary widely from habitat to habitat even within a single country or park. Just about every visitor to Africa wants to see the Big Five, made up of some of the world's most dangerous and respected animals (lion, elephant, leopard, buffalo and rhino) and although a close encounter with one of these wonderful creatures could be the highlight of your safari. It would be a mistake to ignore the thousands of other equally majestic and fascinating animals waiting to make your acquaintance.
Here is a short introduction to some of the most eagerly sought animals the best places to see them in each country.
African Safari Animals List
African Lion. The African lion is well known for being the "king of the jungle". …
African Elephant. …
Kenyan Cheetah / Tanzanian Cheetah. …
Rhino. …
Cape Buffalo. …
Masai ostrich. …
African Leopard. …
Wild Dogs.
While you think about what other animals can be added to this list, spend a moment to consider what it would be like to actually safely see some of these beautiful creatures in their native setting?
Connect with Dani for more information through our JTVC contact form.