Jewish TV Channel is proud to promote an attractive event in Jerusalem that brings together a talented cast under the directorship and production of local theater management.
Encore Educational Theatre Company is scheduled to present Gilbert & Sullivan's immortal comic opera, HMS Pinafore, on 21-30 June 2022 at the auditorium of the Masorti High School, 8 Beitar Street, Talpiot, Jerusalem.  The production is being staged by Robert Binder and Aviella Trapido, with musical direction by Paul Salter and choreography by Batya Feder.  The set of the saucy ship, docked in Portsmouth harbor, has been designed by Roxane Goodkin-Levy and constructed by Hank Rothschild.
The energetic cast of close to 40 consists of participants ages 8-80, including crew members coming from Jerusalem, Beit Shemesh, Neve Daniel, and elsewhere.  They have been rehearsing the opera, originally produced in London in 1878, since early March.
The plot is a satire of mid-Victorian nautical melodramas, in which class conflicts, political appointees, love unrequited, and operatic styles are sent up in a most ingenious way, accompanied by irresistible melodies that have proven hummable and memorable for well over a century.  The love-torn romance between a humble sailor and his proud Captain's daughter is finally resolved when a mystery of birth is discovered and all ends happily.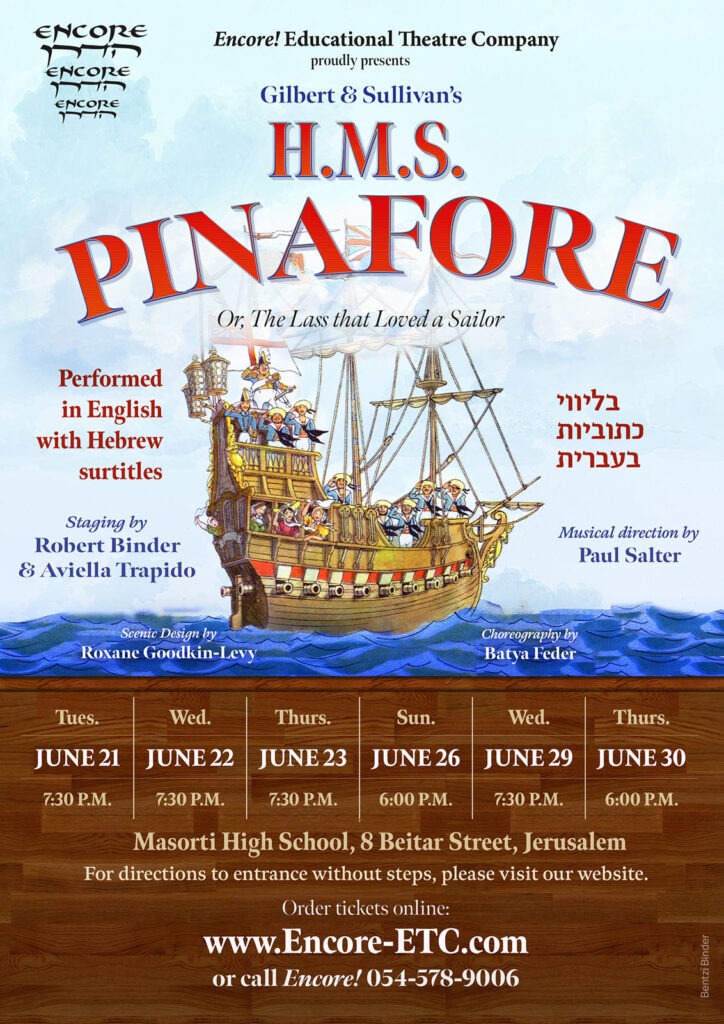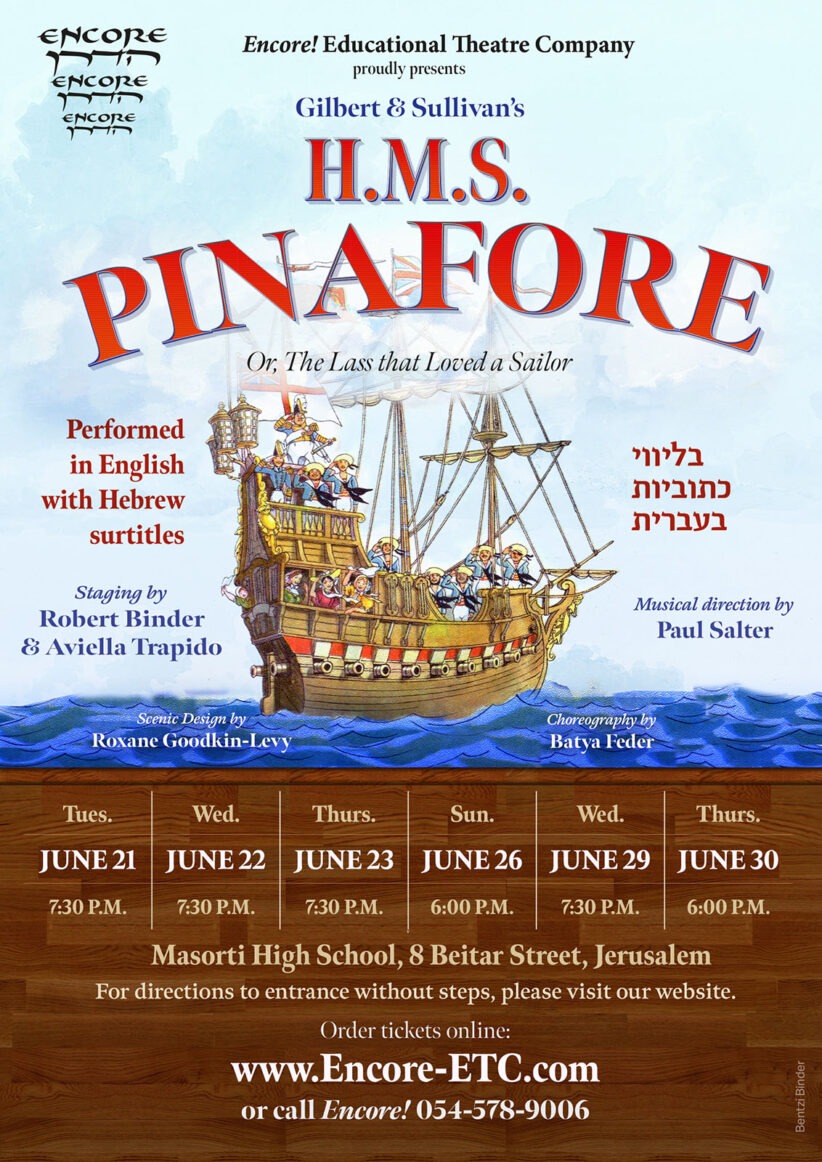 Encore has been producing the most professional shows in the community theatre sphere for over 16 years, including such hits as Fiddler on the Roof, Guys and Dolls, The King and I, and The Pirates of Penzance in recent years.  They have also presented original works on Israeli themes written by Binder and Salter, such as The Keys to the City (describing the "surrender" of Jerusalem by the Ottoman Turks to the British in 1917) and Intrepid: The Saga of the NILI Spy Ring headed by Sarah Aronson.  HMS Pinafore was last presented by Encore 11 years ago.  This revival features innovative dancing, a full orchestra, and first-rate musical standards.  The show is appropriate for family audiences.
JTVC urges all those interested to make early bookings to avoid disappointment.
Tickets are currently available on the company's website, www.Encore-etc.com