Independent league baseball player David Vinsky, who hit an RBI double on the night, told JNS he lets Jewish fans know that he is an athlete of the tribe.
Alan Zeitlin
(JNS)
The New York Boulders defeated the Evansville Otters 7-5 in an independent Frontier League baseball game on July 30 at Clover Stadium in Rockland County, N.Y. It was a double win for Boulders left-fielder David Vinsky, 25.
Vinsky, who is Jewish and wears a Star of David necklace, hit an RBI double. He also had another hit and a strikeout, bringing his batting average to .264. After the game, which ran nearly three hours on Sunday night, he told JNS that the team's "Jewish Heritage Day" was (pun intended) a hit.
"It's awesome," he told JNS on the field. "Not just tonight but in general. We get a ton of support from Jewish fans. It's a homey feeling."
Vinsky told JNS he tells Jewish fans who come to get autographs that he is Jewish, too. "It's great to bond with them, and I love it," he said. "All of the fans are great and show support."
The team raised an Israeli flag as part of Heritage Day. Sarah Bayles, who works in promotions for the Boulders, added that the Israeli national baseball team played a game at the park in 2021.
The Boulders are second in their league in attendance with more than 3,150 fans coming to each game on average, according to Bayles. For the 32-game season, attendance tops 100,000.
The stadium, which opened in 2011 at a cost of $38 million, contains a play area for children, a kosher concession stand and a large blue Adirondack chair upon which people pose for photos. Kosher-food options are available for home games when not falling on Shabbat or Jewish holidays. The venue is less than 10 minutes by car from Monsey, home to a large Orthodox Jewish community.
On Jewish Heritage Day, as many as 20% of the crowd (out of an audience of 2,962) were Jewish men, women and children from all over the tristate area, according to estimates. After all, residents of the village of Pomona in Upstate New York have less of a schlep than traveling to Citi Field in Queens, where the Mets play, or Yankee Stadium in the Bronx.
Tickets are much cheaper in the Frontier League, and fans have a significantly better chance of being able to run the bases or interact with players post-game than they do in the Big Leagues.
Hot dogs on hot day
Mendy Aron told JNS that he came to the game with 76 others from Congregation Shomrei Torah, an Orthodox synagogue in Fair Lawn, N.J.
"It's a nice day at the park, and this is the third year we've come for Jewish Heritage Day," Aron told JNS. "It's great there is kosher food, and a young boy from our shul threw out the first pitch."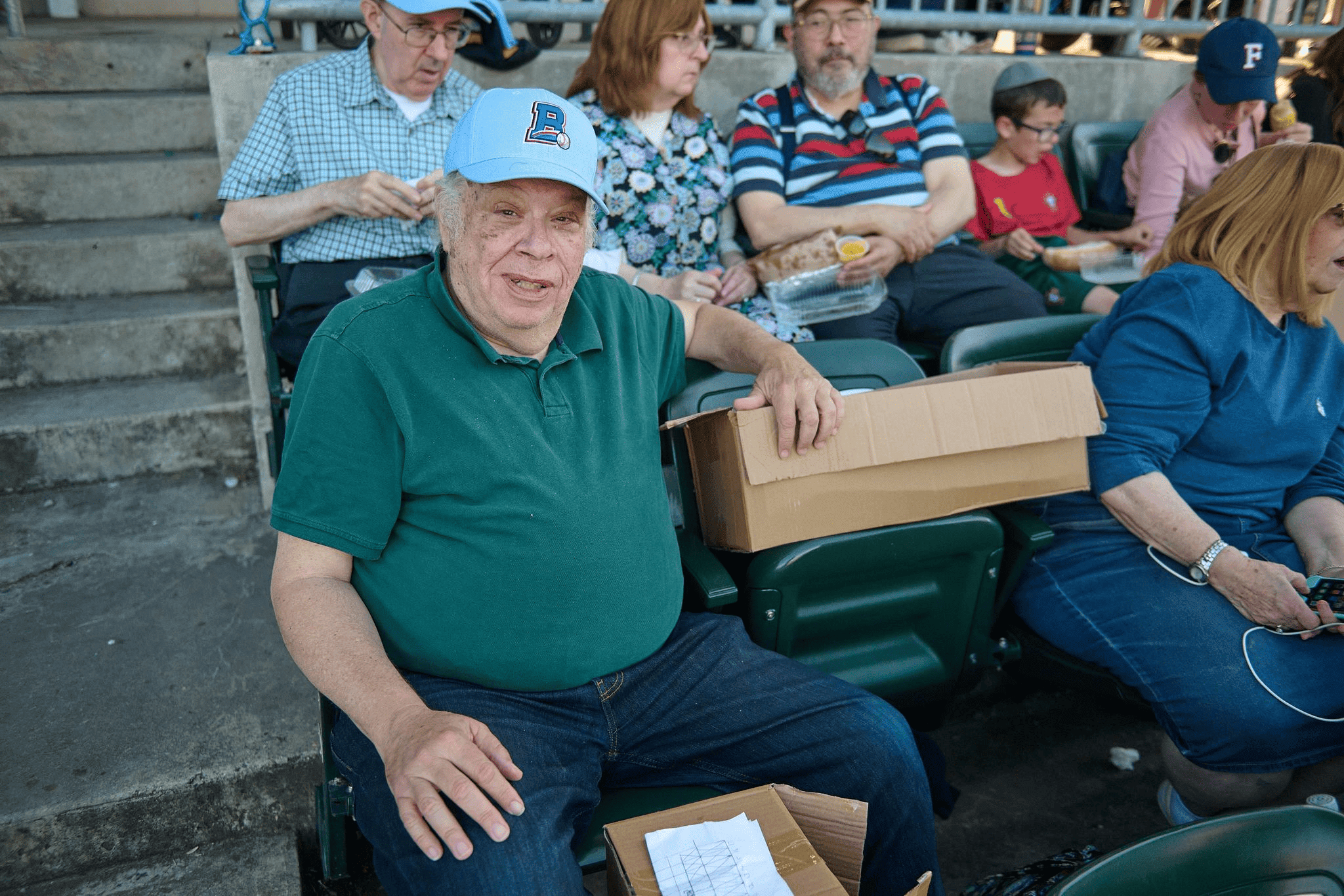 The boy, Idan Lefkovits, 7, wasn't nervous to throw out that first pitch, he told JNS. The Yankees fan, who hopes his team makes the playoffs, offered simply that the experience was "cool."
Fulfilling a role that was much more functional than ceremonial was Chaim Lunger, 28, of Pomona. The co-owner of Kosher Heaven felt the heat on the warm summer evening as he served up hot dogs ($7.49), chicken nuggets ($8.99) and fries ($5.99), often joking with customers.
Lunger told JNS he thinks he sold between 350 and 400 hot dogs.
"The people appreciate that there is kosher food. There are customers who are not Jewish who buy food, and people who live in this area have seen religious Jews, but they tell me I'm the coolest religious Jew they've met," he said.
Lunger added that both fans and Boulders staff are "very friendly."
Lines in front of the hot-dog stand often ran up to 30 people long, and Lunger often fist-bumped patrons—Jewish or not—as they got their food.
Aiming right instead of center
Shira Steinfeld, who wore a personalized jersey with her name on the back, told JNS that the Boulders is the only baseball team she likes.
The New Hempstead resident, who lives a few minutes from the park, comes to nearly every Boulders home game, she told JNS, and her favorite player is outfielder Patrick Kivlehan. Kivlehan, who is not Jewish, had brief stints in the Major Leagues with the Cincinnati Reds, Arizona Diamondbacks and the San Diego Padres, and he entered the game with 13 home runs. (He hit 10 in the majors.)
"The stadium is beautiful," Steinfeld told JNS. "I love being able to sit so close up. In a Major League game, you would have to pay $4,000 to sit this close. We know the players by name, and we cheer for them by name. We love it; it's a great time."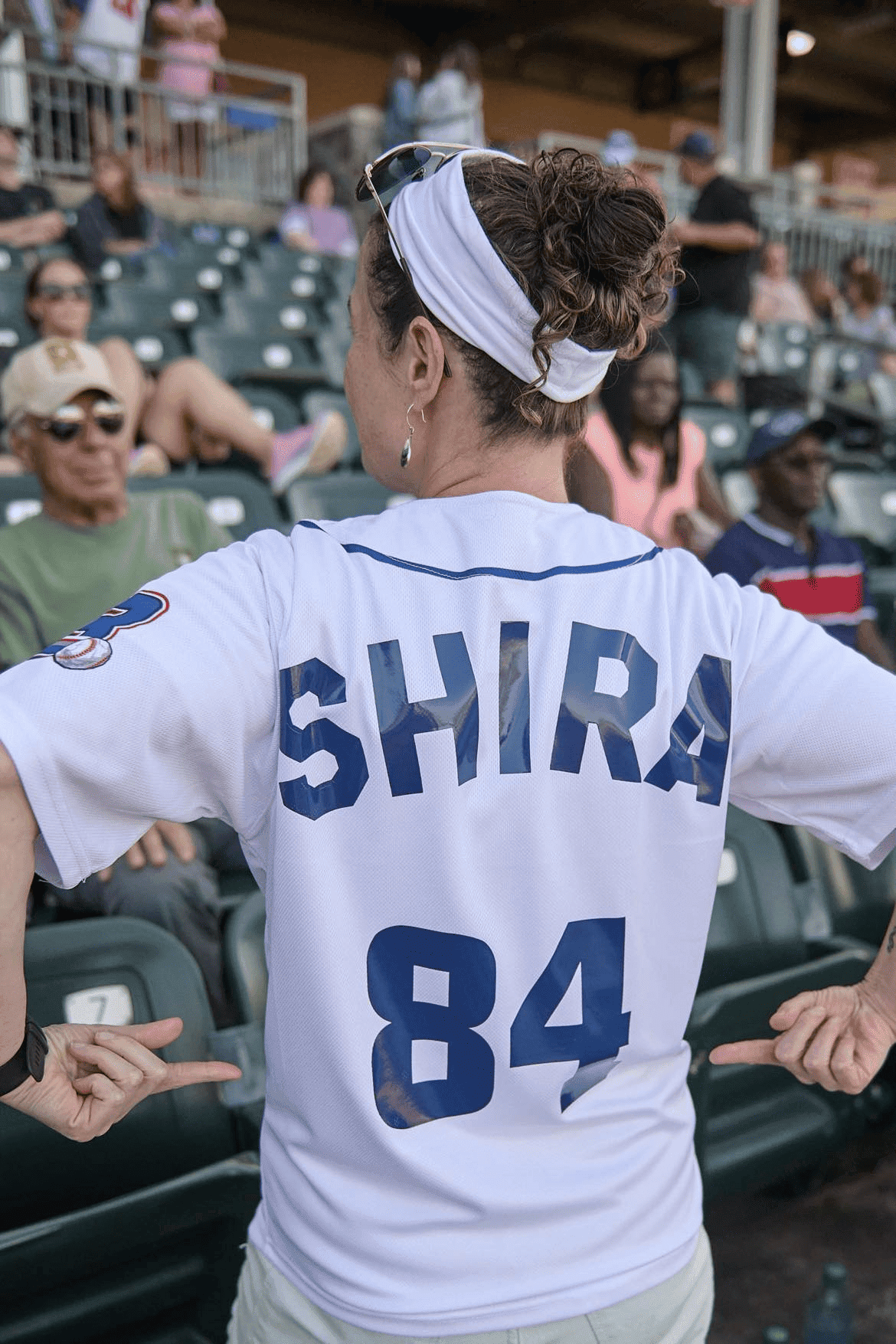 Yaakov Maline of Fair Lawn, N.J., told JNS that even those who are skeptical that they would enjoy a baseball game that doesn't involve big leaguers should give it a try.
"The Boulders have some really good hitters, and it's cool to be so close when they hit the ball hard," Maline said. In fact, at this level, the hitters tend to outpace the pitchers, which makes for high-scoring games.
Robert Isler, a Mets fan also from Fair Lawn, was at Clover Stadium for the first time. "I've been to stadiums in New Jersey in the same league, and this stadium is a lot nicer," Isler told JNS.
The Boulders are 36-28, which is good for fifth place in the East division of the Frontier League.
Vinsky, who wears the Star of David, grew up near Detroit and is a Tigers fan, but also roots for the Mets because his friend Nick Plummer played for the team briefly last season. In 95 games last year, Vinsky hit an impressive .349, with 20 home runs and 84 runs batted in.
The Jewish player told JNS that one strategy for a hitter at Clover Stadium is to aim for the short right-field porch—only 312 feet away from home plate. Dead center field, meanwhile, is 403 feet away.
After a losing streak, the Boulders have won two in a row. "I think our best baseball is ahead of us," Vinsky told JNS.