Asked how it feels to be a nonagenarian Israel Defense Forces reservist in action, Ezra Yakhin told JNS that "It is very important for us to fight for our country. I feel excellent."
Avi Kumar
(JNS)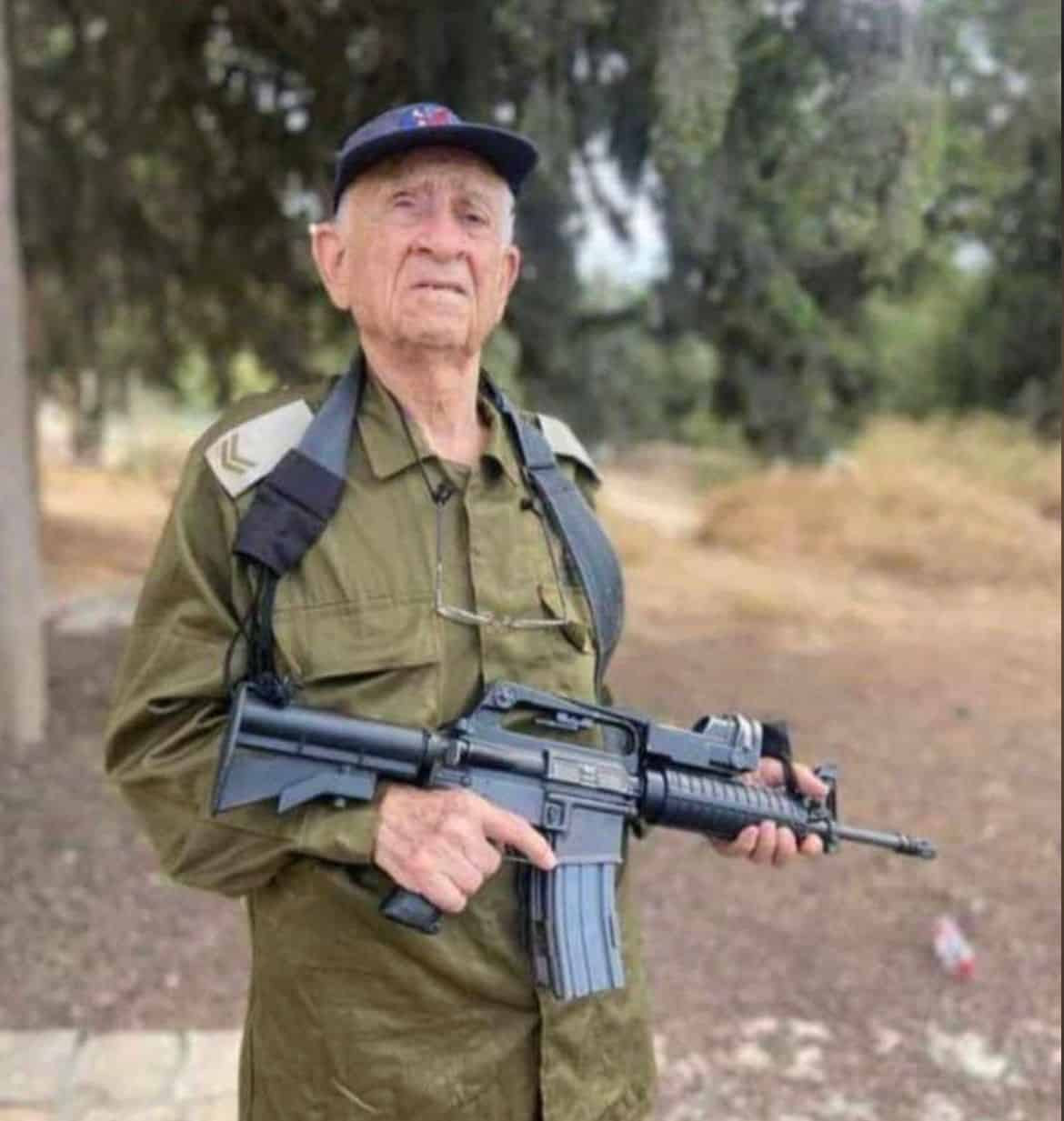 A crowd of young Israeli soldiers stand ready, listening to a 95-year-old, battle-hardened veteran. Ezra Yakhin has witnessed nearly every war the modern state of Israel has faced, and he remembers 1948.
"I told them to go demolish Hamas," Yakhin, who may be the oldest IDF reservist, told JNS.
Asked how it feels to be the oldest Israel Defense Forces reservist in action, Yakhin told JNS that "It is very important for us to fight for our country. I feel excellent."
Yakhin won't be fighting terrorists on the front lines, but his job involves motivating those much younger than he, who will take on Hamas terrorists directly.
He has seen Israel achieve victory against great odds, as when he joined the Jewish militia Lehi, a thorn in the side of the British police, at age 16. "Nobody thought a small nation like us with less than half a million people could challenge an empire that spanned the entire globe," he said.
It proved invaluable to the underground movement that Yakhin had a job at the post office and he knew some Arabic. (His parents were from Syria and Egypt.) He found his way to Lehi, in search of whatever group "would be best at kicking the British out," he said.
"It was very wrong that they were oppressing us in our own homeland, not allowing Jewish refugees to enter and arresting us while the Arabs prepared for war," he added.
A brother of his was also in Lehi, and Yakhin only learned another brother of theirs was in Irgun when Lehi and Irgun had a joint operation. He had a few major scares, as when he was hit in the thigh by shrapnel on a mission in Jerusalem on Ben Yehuda Street. During another operation, in the Old City of Jerusalem, he sustained a head injury, which blinded him in one eye.
"We struck such fear in the hearts of the British. They weren't safe from us, and we made them pay for their actions no matter what it was," he said.
Asked about Hamas today, Yakhin told JNS that the terrorist group must be put out of business permanently.
"Can the wolves have peace with the sheep?" he asked. "They do not care about the land. This is all driven by their hate for Jews."
Image: Ezra Yakhin, 95, who may be the oldest IDF reservist, in uniform. Credit: Courtesy.