The restaurant industry was generally already in a steady decline worldwide before the Covid pandemic lent its destructive hand. Conversely, being locked up for so many years, sorry should have said locked down but what's the difference, has actually served to increase an appetite to dine out. As you can see puns come my way without even trying! So where does the restaurateur go from here? For those supporting the concept that we need to strengthen bonds between Jewish communities, despite political differences, this article might just be a life-saver.
Restaurants face stiff competition at the best of times, and while having an irresistible cuisine plays the pivotal role, providing an ambient atmosphere runs a close second, unless one is operating a take-out service only. Fortunately there are well tested innovative ways of increasing visitors to your establishment. The name of the game is hosting events not only for private parties, but for your regular customers and prospective ones alike.
The Restaurant Event Ideas That Will Help You Win Customers
Restaurant events are a great way of exciting your guests, elevating the overall customer experience and increasing the restaurant sales.
If you are hosting unique restaurant events it would get people talking and will get more guests to your restaurant's door.
Here is a list of some amazing and novel restaurant event ideas that will keep your patrons hooked to your restaurant.
1. Celebrating The "Not-So-Popular" Holidays
Almost all the restaurant in the US host events on common holidays like Christmas, but it is celebrating the "not-so-popular" days that counts!
Hosting events on unpopular holidays is a tactful move. Not many restaurants will be hosting events on that day and the competition would be limited. This will help you draw in more customers to your restaurant.
For example, on Star Wars Day(May 4th), you can host a Star Wars themed party. Invite all the "Star-Warriors" to have a gala time at your restaurant.
You can hand out a discount voucher or a free meal pass to the best-dressed guest. As rewards are a great way of enticing people.
Small holidays like the one mentioned above give you several opportunities to host events that help you attract more people.
2. Hosting Karaoke Nights
Several restaurants and bars in the US host karaoke night that shouldn't stop you from hosting one at your restaurant!
Make your karaoke night event a little unique to stand out. Turn the good old karaoke night into a singing competition.
Let your guests compete against each other for an hour or so. Later reward the best singer with a complimentary drink or a starter.
Rewards add the fuel to the fire, it will encourage people to come forward and let loose.
3. Charity Events
Hosting charity events is also a good way of giving back to the community. This will not only help you attract customers but will also enhance the goodwill of your brand.
You can collaborate with a local NGO and host an event for a cause. Let the NGO officials host awareness events at your restaurants.
You can also donate a part of the sales you make that night to an NGO you believe is doing good for a cause.
4. Pre-Fixe Menu Nights
Hosting pre-fixe menu nights is an excellent new concept you can make use of. Curate an enticing pre-fixe menu of the meals that are not easily available in that region. Such events give people a taste of the best food from around the world.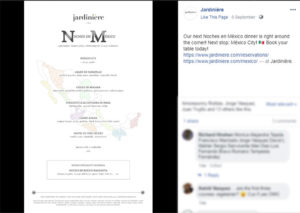 For example, Jardinière restaurant in San Francisco is best known for hosting pre-fixe menu nights every Monday. The dinners are inspired by the different locations from around the world!
Recently, they have started with an event called "Noches en Mexico". It's a pre-fixe menu night that takes the people on a culinary adventure through Mexico.
5. Hosting A Guest Chef/Bartender
You might have the best chef/bartender in town but inviting a guest chef/bartender introduces some freshness!
You can have the guest chef/bartender come in every month and introduce a new menu item or an innovative cocktail.
You can also invite a celebrity chef/bartender if your pocket allows! You can have them talk about their signature cooking/mixing styles. Let them show their skills, let them put a show behind the bar or the cooking station!
6. Host live gigs
Hosting live gigs is one of the most popular restaurant event ideas that can never go out of style!
You can have a local band perform at your restaurant or invite a famous singer if that fits your budget. That is not all, you can have a stand-up comedy night at your restaurant as well. You can also organize an open mic night and encourage not just professionals but your guests to show off their talent be it singing, comedy, poetry, etc.
Events like these make people happy and will make them stay for longer.
Making people stay longer means they will be splurging more, which will increase per check value.
7. Speed Dating Nights/ Singles Nights
This event might sound a little strange but can have a huge impact on your restaurant's sales. You can consider hosting speed dating nights where singles can meet new people at your restaurant.
Such events attract the local crowd and are a great way of luring in newbies. You can partner up with local dating services and offer discounts to people coming to your restaurant through that dating site/app.
This is definitely an out-of-box restaurant event idea that is sure to attract a lot of people!
Restaurant events help in making your restaurant the talk of the town. These restaurant event ideas are bound to help you do that!
While there are some common events like Taco Tuesdays, Wine Wednesdays, etc. people are constantly looking for something innovative.
Come up with a restaurant event idea that goes with the theme of your restaurant, but avoid the events that disrupt the peace of your regular guests.