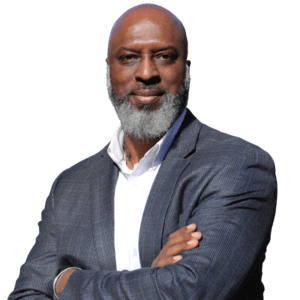 Listen to Pastor Dumisani Washington on Talking Point:
The Future of Black and Jewish Relations — Pastor Washington discusses the hijacking of the black civil rights movement by pro-Palestinian Soviet propaganda and walks us through the evolution of Black–Jewish relations from Booker T. Washington, Martin Luther King, Malcolm X and Louis Farrakhan. He also explains how he and his IBSI ambassadors are trying to heal our communities and  cultivate a mutually beneficial Israel-Africa alliance and defend Zionism.
Pastor Dumisani Washington
Dumisani Washington is the Founder and CEO of the Institute for Black Solidarity with Israel (IBSI).He's also the former Diversity Outreach Coordinator for the over 10 million member Christians United for Israel (CUFI).
Dumisani is a pastor, professional musician—a graduate of the San Francisco Conservatory of Music – and an author whose latest book is the second edition of Zionism & the Black Church: Why Standing with Israel Will be a Defining Issue for Christians of Color in the 21st Century.
While on staff with Christians United for Israel (CUFI), Dumisani organized multi-ethnic Christian support for Israel from across the country, and helped engage the many Israel-supporters and honorary  members from South Africa, Zimbabwe, Togo, Ghana, Nigeria, Ethiopia, Kenya, Morocco and more.
Pastor Dumisani is also the creator of the Mizrahi Project, a short film project that tells the story of the over 850,000 Jewish refugees from North Africa & the Middle East. As part of his effort to initiate the Mizrahi Project, Dumisani was featured in the 2016 PragerU video, "Why Are There Still Palestinian Refugees?", which has received millions of views worldwide.
Pastor Dumisani is also the Founder and Director of The Hebrew Project Artists (THP), a music group that performs gospel music with Hebrew and English lyrics in an artistic stand with Israel and the Jewish people.
Dumisani and his wife, Valerie, have been married 34 years and have 6 children and 3 grandchildren.