Once involved in Republican politics, the Orthodox rabbi and coach spends eight hours a day writing, focusing on the roots of conservative ideas.
David Swindle
(JNS)
Rabbi Daniel Lapin grew up in Johannesburg, South Africa, as part of a prominent rabbinic family. However, he did not excel as a student initially, and so his parents sent him to boarding school in England when he was 10.
"I understand that I was not an easy child to have around," the rabbi, who lives on the East Coast of the United States, told JNS. (He asked that JNS not name his home city because he has received prior credible threats.)
English boarding school expanded Lapin's understanding, he said: "I was growing up as a barefoot savage in Johannesburg and then all of a sudden, I was exposed to another world."
He grew up in a religious home in South Africa, but his parents—wisely, he said—didn't sit him down in front of complicated sacred texts as a young boy. "I would rather have been hunting with my dog," he told JNS.
In his 20s, Lapin began to clarify his understanding of Jewish scripture and rabbinic commentaries.
He told JNS that Judaism is often taught to children in ways that aren't age-appropriate, like exposing children who cannot possibly understand Gustav Mahler's music yet. "People are exposed to bar mitzvah training, and it's largely empty and meaningless and vapid," he said. "They then form the views and opinions on scripture, which effectively inoculate them against ever looking at it from a serious adult point of view again."
A prolific writer and thinker who coaches others on their spiritual and financial life journeys, Lapin told JNS about what he's working on these days, as well as about some significant changes in his life in recent years.
'Juvenile Judaism'
The last Jewish thing that many American Jews have experienced is their bar or bat mitzvah, according to Lapin, which means that their faith identity is solidified in their minds on a childish level.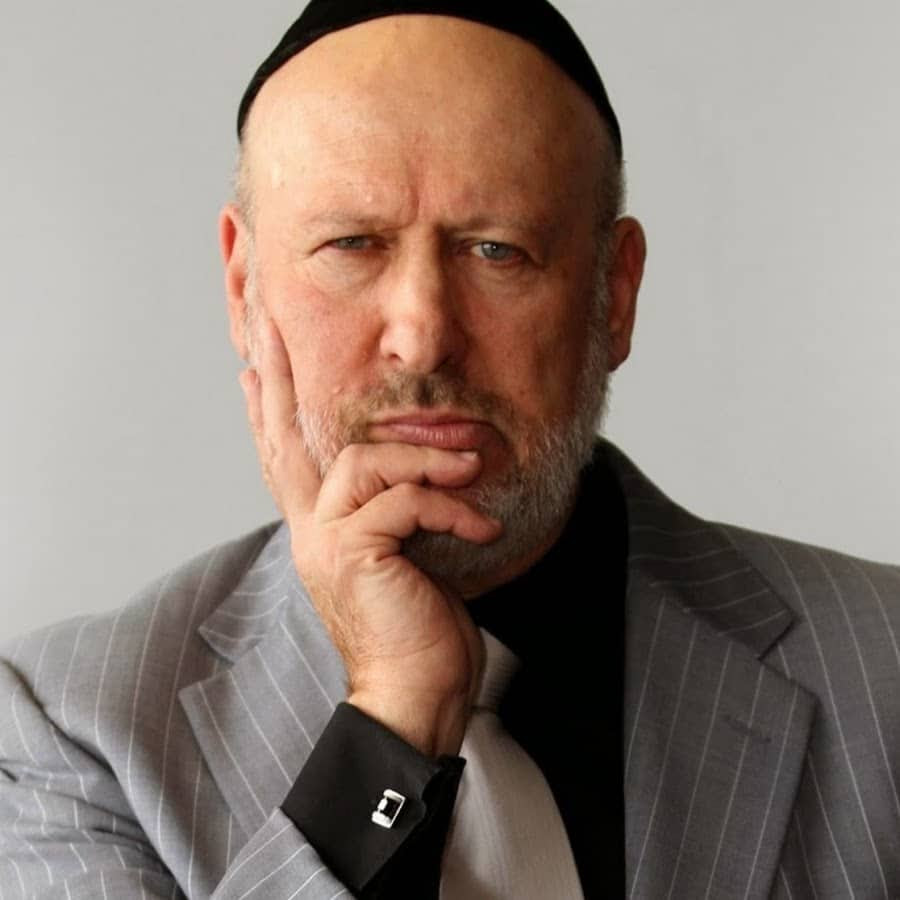 "This resembles someone considering themselves a knowledgeable mathematician when the last bit of mathematics they encountered was Algebra 1 in middle school," he said. "In certain ways, I think Judaism has been a colossal marketing failure in the sense that it is depicted entirely as a childish landscape."
Lapin noted that High Holiday news coverage in major city papers across the United States run "two regular, dependable standbys" every September around the High Holidays: recipes for traditional Rosh Hashanah foods and photos of rabbis—or other conspicuous Jews—blowing shofars for groups of children.
"The message is essentially that Judaism is gastronomical and juvenile," he said.
His own real engagement with Judaism began in his 20s, he said, when his brain started maturing and he studied with "substantive teachers" who exposed him to sophisticated materials on an adult level.
"In hindsight, I began to get a clearer picture of what my father had been trying to teach me," he said. Lapin's great uncle, Rabbi Elyah Lopian (1876-1970), a leader in the Lithuanian pietistic Mussar movement, was also an important influence on him.
Less politically involved
"A long time ago, the Israelites crossed an ocean to arrive in a wild and untamed land. They brought nothing but one crucial idea that created a culture and forged a nation,"
Lapin said in a benediction at the 1996 Republican National Convention in San Diego.
"That crucial idea—what we think of God—is less important than what God thinks of us, and His thoughts about us can be found in the Bible," Lapin added at the time. "Three millennia later, clutching their Bibles, our forefathers crossed another ocean to arrive on the shores of this land. They, too, brought nothing but an idea."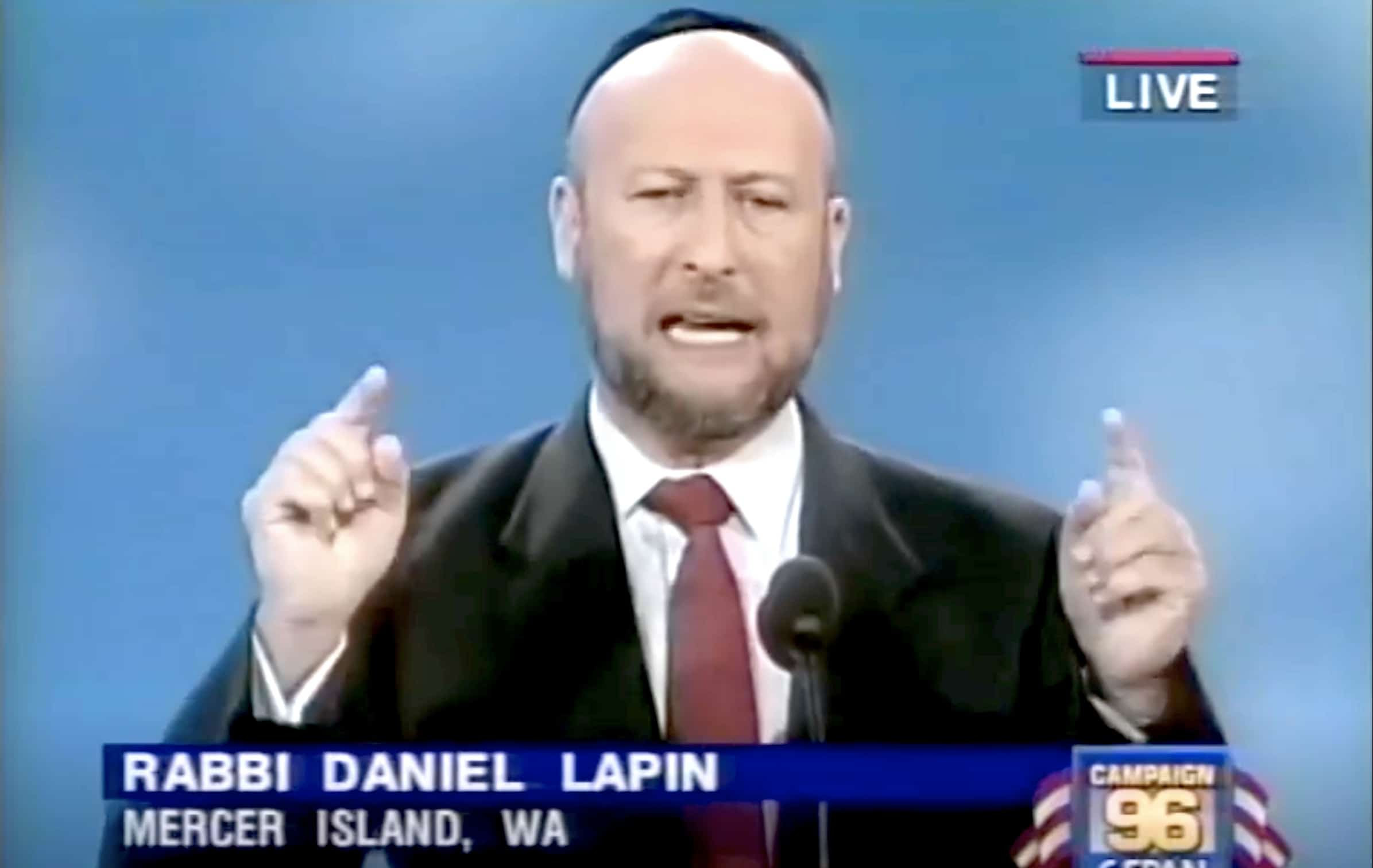 Becoming an American citizen when those founding fathers became Lapin's as well was "the proudest day of my life," he said.
Lapin has spoken at Faith and Freedom Coalition conferences in Washington, D.C., and was one of the speakers at the Congressional Prayer Service at Lutheran Church of the Reformation in Washington, D.C., on Jan. 6, 1999, where members of the 106th Congress and clergy reflected on the upcoming session and prayed.
"What a wonderfully traditional way to begin a session of the government with a prayer service," Lapin said in his remarks before leading a prayer. "How utterly American that is. What a country this is. And for a Jew to be welcomed to such a prayer service. What a country!"
These days, Lapin is much less involved in Republican politics, he told JNS. Instead, he is preoccupied with the roots of conservative ideas.
"When I speak for political groups, I don't think they're necessarily interested in hearing me speak as a Republican," he said. "They are interested in hearing the timeless truths of certain elements of conservative thinking."
Among the subjects about which he teaches and coaches are biblical views on taxation and representative government, as well as gender politics.
"Those are the things that they're uncomfortable talking about in terms of conservative politics," Lapin said. "There are political leaders who turn to me for more guidance in that area." (Lapin told JNS he has no dog in the 2024 race but is grateful to former President Donald Trump for moving the U.S. embassy to Jerusalem in 2018, and for "having said in advance what he was going to do and having kept his word.")
New book
These days, Lapin spends a lot of time writing. He wakes up at 6 a.m. to pray and usually has a breakfast meeting, he told JNS. After that, he tends to write for four hours. He then coaches clients for an hour and writes for another four hours in the afternoon.
In addition to writing articles and columns for his website and for other publications, Lapin has a new book, released on Sept. 26, titled The Holistic You: Integrating Your Family, Finances, Faith, Friendships and Fitness. (It is co-authored with his wife, Susan Lapin.)
"Our entirety as complex human beings depends not only on finances, but a completely fulfilling life requires completion in those five areas," he told JNS. "If you have a great sex life and a great family life, you have no financial worries, you're physically fit, you've got great friends and you've got a connection with God, you don't have a lot to complain about in life."
The book explains how those five areas "feed and nurture one another," he added.
Pat Robertson
Lapin has received "threats and antagonism" in the course of his work over the years, he told JNS, but that has tended to be from Jewish critics of his friendship with Christians and his interfaith work, rather than antisemitism.
"I used to get hate mail with words in Hebrew and Yiddish," he said. He also hears from those who object to his "conservative views on business and finance," particularly regarding business "as a moral and dignified endeavor."
A large part of his decision to become involved in interfaith work was seeing a contradictory controversy unfold around the December holidays. Manger scenes would pop up on government property in small towns ahead of Christmas, and a local Reform rabbi would sue on First Amendment grounds for violating the separation of church and state. Typically, a week or two after the Christmas scene was removed from city property, Chabad rabbis would install eight-foot Chanukah lamps on city property.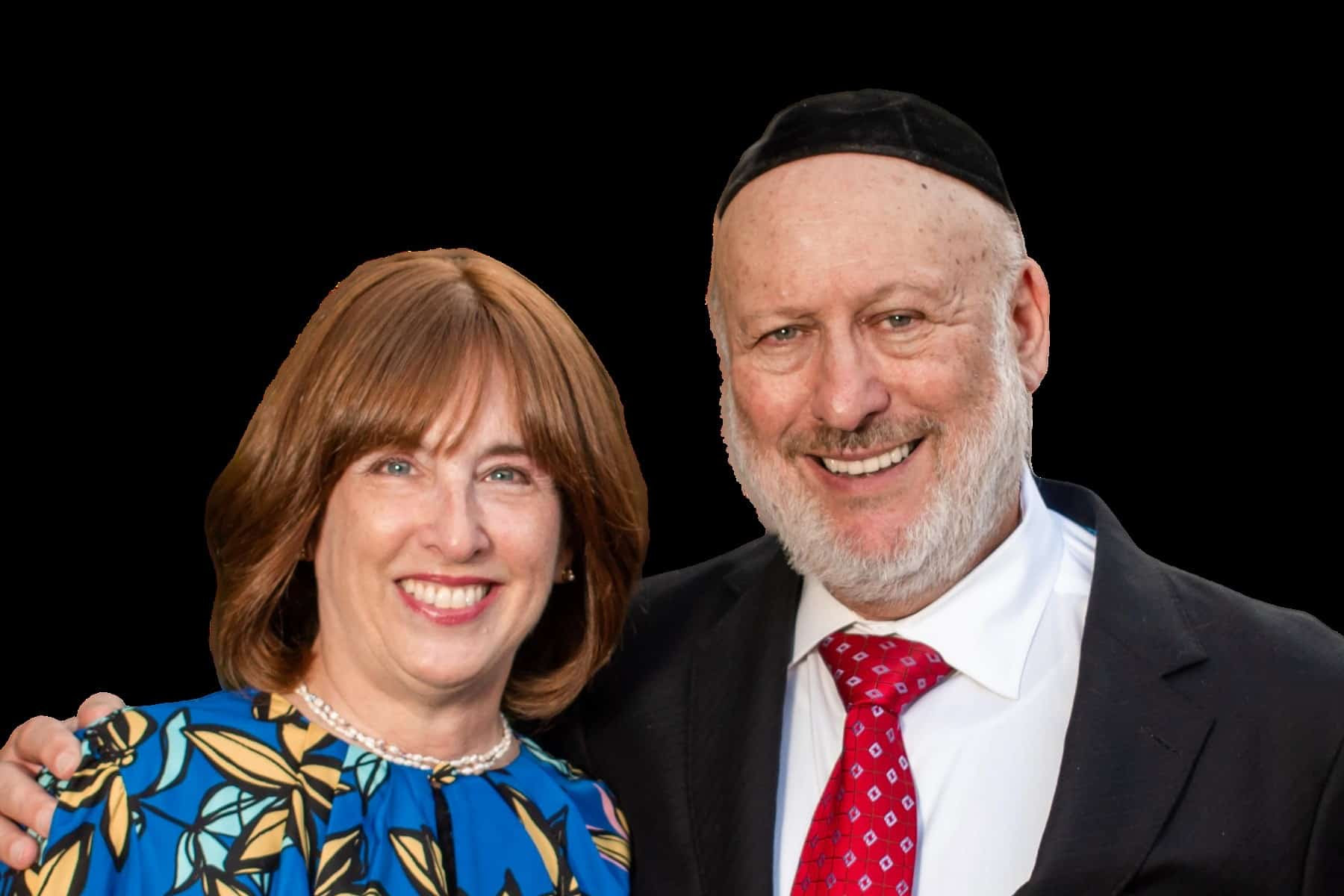 "I was lecturing to non-Jewish audiences, and people would very often say to me: 'Why is it OK to have a Jewish religious symbol on the City Hall lawn? Why did we have to take away the Christmas scene?" he said. "Pretty good question."
Courts had ruled that menorahs were cultural rather than religious symbols. "I don't think that went down very well as an answer because the eyes show what the eyes see," Lapin said. "I thought this was something that made Judaism and Jews not look good—that one group of Jews calls for the removal of the Christmas scene and another group of Jews installs the Jewish symbol."
So Lapin set out to explain the situation to non-Jews, who most likely didn't understand the difference between Chabad and Reform Judaism. He also thought it was important for them to understand Jewish views on abortion better, particularly as the overwhelming majority of religious organizations that supported abortion in the 1980s and early 1990s were Jewish.
Lapin decided that it was necessary for the United States to retain as much of the biblical values of the past as possible if his children were going to be able to live in tranquility and prosperity in the country, as he has. He penned his first book America's Real War in 1999. When it won Christian book awards and sold well, he started receiving invitations to lecture, which he accepted.
"That's really pretty much how it began," he said.
As his profile rose, Lapin came to know the late televangelist Pat Robertson, who had a controversial past.
"The hostile voices towards Pat Robertson emanate almost entirely from the secular end of the Jewish community, not religious," Lapin told JNS. "Bible-committed, Bible-believing Jews feel a certain commonality with people like Pat Robertson."
Lapin thinks many Chassidic Jews realize that these days, they have more in common with evangelical Christians than they do with Reform rabbis, and that "committed and serious" Christians have come to see many mainstream U.S. Christian strains as "basically wings of the Democratic Party.
The real divide in the United States, he said, is between "those who believe that Bible-based, Judeo-Christian values are vital for the nation's survival" and "those who are equally convinced that Judeo-Christian values are reprehensible obstacles to progress."
Image: Rabbi Daniel Lapin. Source: YouTube.