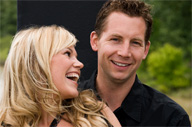 Social networking sites, professional personal ad writers and dating coaches can all help you meet someone special. But people need to know what to do when they finally get that first date. A new Web site, DatingtoRelating.com, is doing just that.
With over 500,000 visitors a month, Dating to Relating is quickly becoming the standard in Internet dating advice. While other Web sites, such as David DeAngleo's DoubleYourDating.com and Neil Strauss's StyleLife.com and TheMysteryMethod.com have seen their traffic decline over the past year, Dating to Relating has only seen its traffic increase, according to Alexa.com Web traffic statistics.
"They [love gurus] only tell you how to meet and attract women," writes the anonymous Mr. L Rx on the popular Web site. "They don't tell you how to relate [to] and keep them."
Of course, Mr. L Rx makes sure to advise men on both how to meet women, and how to create and maintain relationships in his new book, "Dating to Relating -; From A to Z," which is available in both print and Kindle editions at Amazon.com.
For men with first-date jitters here are some tips from Mr. L. Rx and Dating to Relating.com.
– Try to be interested instead of interesting. Being interesting leads to a lot of rejection and platonic friendships. Girls will be friends with a guy who is really interesting. But they want to date a guy who is interested in them.
– Don't put too much conversation attention on sex, sexual topics, sexual innuendos and her looks. Girls wouldn't even be on the first date if they weren't vaguely OK with the concept. What she really wants to know is: What else do you want? What else do you like about her? What else can you do for her? What else do you have in common with her? How else can you have fun together?
– If you want to get a second date you have to create both sexual attraction and non-sexual attraction on that first date. Sexual attraction is created by such things as posture and attitude and other non-verbal motions and communications. Non-sexual attraction is created by listening to what the girl has to say, being truthful about who you are and finding and creating mutual interests that you can pursue together in the future.
For additional information about how to meet, date and relate to women, try visiting www.DatingtoRelating.com.