The Jewish politician was "popular across all parties because of his good humor and decency," the second-most senior Irish politician said of Briscoe.
Avi Kumar
(JNS)
Ben Briscoe, who according to the Irish Times was "among the best-known Irish politicians with a Jewish background," died on July 10. He was 89, his sister-in-law told JNS.
Briscoe and his father, Robert Briscoe, were the only Jews to serve as lord mayor of Dublin. Ben held that office from 1988 to 1989. For 37 years—from 1965 to 2002—he was a member (Teachta Dála) of the lower Parliamentary house as part of the Fianna Fáil party, Ireland's largest.
Ben and his father, who smuggled arms for the Irish Republican Army and later befriended Ze'ev Jabotinsky and advised Menachem Begin, incorporated the Star of David into their coats of arms.
When he decided to become a politician, Ben said in an interview with JNS that his father told him, "Don't inherit my enemies."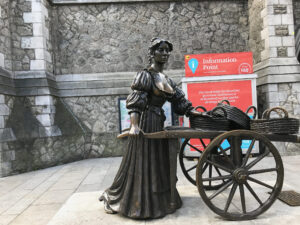 Sculpture of the fictive fishmonger Molly Malone in downtown Dublin. Photo by Menachem Wecker.
Dublin unveiled its iconic sculpture of the fictive fishmonger Molly Malone pushing a wheelbarrow during the younger Briscoe's mayoral tenure, amid the city's millennium celebration.
Micheál Martin, the second most-senior Irish politician, said that Briscoe was "popular across all parties because of his good humor and decency" and "was a stalwart of our democratic parliament. He worked to build a system of accountability for public spending and ensure decent conditions for those who work in our parliament."
"Ben learned from his family a deep republicanism and pride in Ireland's history and in the Jewish heritage of his family," Martin added.
Ben, who was 11 when World War II ended, told JNS that many Irish Jews placed their children in Protestant schools, where they thought the children would face less antisemitism. But he remembered non-Jewish classmates playing a "game," which involved rounding up the six Jewish students, including him, and locking them in the bathroom, echoing concentration camp roundups.
Of Lithuanian Jewish heritage, the Briscoe family lost many relatives in the Holocaust.
"My father knew what would happen to the Jews if the Nazis ever got to Ireland," Briscoe told JNS in an interview.
Asked about a controversial sculpture of a Nazi sympathizer and IRA member Seán Russell, Briscoe told JNS he thought the sculpture should remain on view "so that people will know that there were some in Ireland who supported Hitler."
Briscoe was buried on July 12 at the Progressive Jewish Cemetery in the Dublin suburb of Rathfarnham. He is survived by his wife, Carol; and two sons and two daughters.
Feature Image: Ben Briscoe, former lord mayor of Dublin. Credit: Courtesy.