There were no fiery exchanges on Israel, as there were in the first debate, though two candidates mentioned Iran.
David Swindle
(JNS)
In the first Republican candidate debate on Aug. 24, Israel became the center of a heated exchange between two of those vying for the presidency in 2024. The Jewish state did not come up at all during the two-hour second debate at the Ronald Reagan Presidential Library and Museum in Simi Valley, Calif., a month later on Sept. 27. Instead, the seven candidates focused largely on domestic issues, including urban crime, illegal drugs, immigration and the Southern border.
Throughout the event, the moderators—Dana Perino of Fox News, Stuart Varney of Fox Business Network and Ilia Calderón of Univision—struggled to keep the candidates under control. When Perino asked each of the seven to take 15 seconds and write on a notecard which candidate on stage "should be voted off the island," Florida Gov. Ron DeSantis said, "I'll decline to do that, with all due respect."
"I mean, we're here, like, we're happy to debate," he said. "I think that that's disrespectful to my fellow competitors, yes."
Frank Luntz, the veteran Republican pollster, wrote that the current debate format is absurd. "Future debates must give candidates 90 seconds or two minutes per topic," he wrote. "If we want real answers to real questions, we must have a debate format that encourages substance over sound bites."
When the candidates were answering questions and when they weren't talking over one another, they did manage to clarify some of their positions on domestic issues.
Iranian threat
Some three-quarters of the way into the debate, Varney said that U.S. President Joe Biden's first two years in office "have brought China, Russia and Iran closer together." He asked Chris Christie, the former governor of New Jersey: "Are we focused too much on Ukraine and not enough on this threat from the new world order?"
"No, they're all connected, Stuart," Christie replied. "The Chinese are paying for the Russian war in Ukraine. The Iranians are supplying more sophisticated weapons and so are the North Koreans now as well, with the encouragement of the Chinese."
"The naiveté on this stage from some of these folks is extraordinary," he added.
In the next question, Perino asked North Dakota Gov. Doug Burgum how he, as president, would protect U.S. farmers and ranchers from the retaliation of foreign governments, such as China.
"This is part of the larger issue that we're talking about here, which is, we're in a cold war with China. The Biden administration won't admit that. But we're also in an economic war through what we're doing with agriculture and energy, and we're also in a war with them relative to cyber war," Burgum said.
"We get attacked every day in North Dakota, every state, every school district, our tribes all being attacked every day by either China, Russia, Iran or North Korea," he added. "Now we have got a Biden administration whose whole policy is appeasement. They're out there creating the world, making it less safe."
He noted that Washington, by trading $6 billion to Tehran for the release of five U.S. hostages, "just now set a price on anyone's head who's a tourist from America, who's a student from America for kidnapping."
"If you want more kidnapping, put a price on it," he said. "They're also helping Iran get closer to a nuclear weapon, which pushes all of the Middle East closer to China and Russia. The whole thing is absurd."
Religion
Sen. Tim Scott (R-S.C.), who often discusses his faith, concluded a telling of his difficult life story, saying "God bless these United States of America."
"Our nation continues to go in the right direction," he said on another occasion. "America is not a racist country. Never ever doubt who we are. We are the greatest country on God's green earth, and frankly, the city on the hill needs a brand-new leader. And I'm asking for your vote."
The expression "city on a hill," which comes from the Sermon on the Mount in the New Testament, has also been used to describe America's singular role.
Later in the debate, Mike Pence—former U.S. vice president, former Indiana governor and former congressman—said that as president, he would champion the American Dream. "For Hispanic Americans and for every American, so help me God," he said.
The entrepreneur Vivek Ramaswamy, who at 38 was the youngest on the stage, mentioned religion when discussing the movement of illegal drugs across "the Swiss cheese of a Southern border."
"We also have to be honest. There's a demand-side problem in this country, too, a mental-health epidemic," he said. "We have to bring back mental-health care in this country—not with pumping pharmaceuticals, but with faith-based approaches that restore purpose and meaning in the next generation of Americans. Many of them are getting it through social media."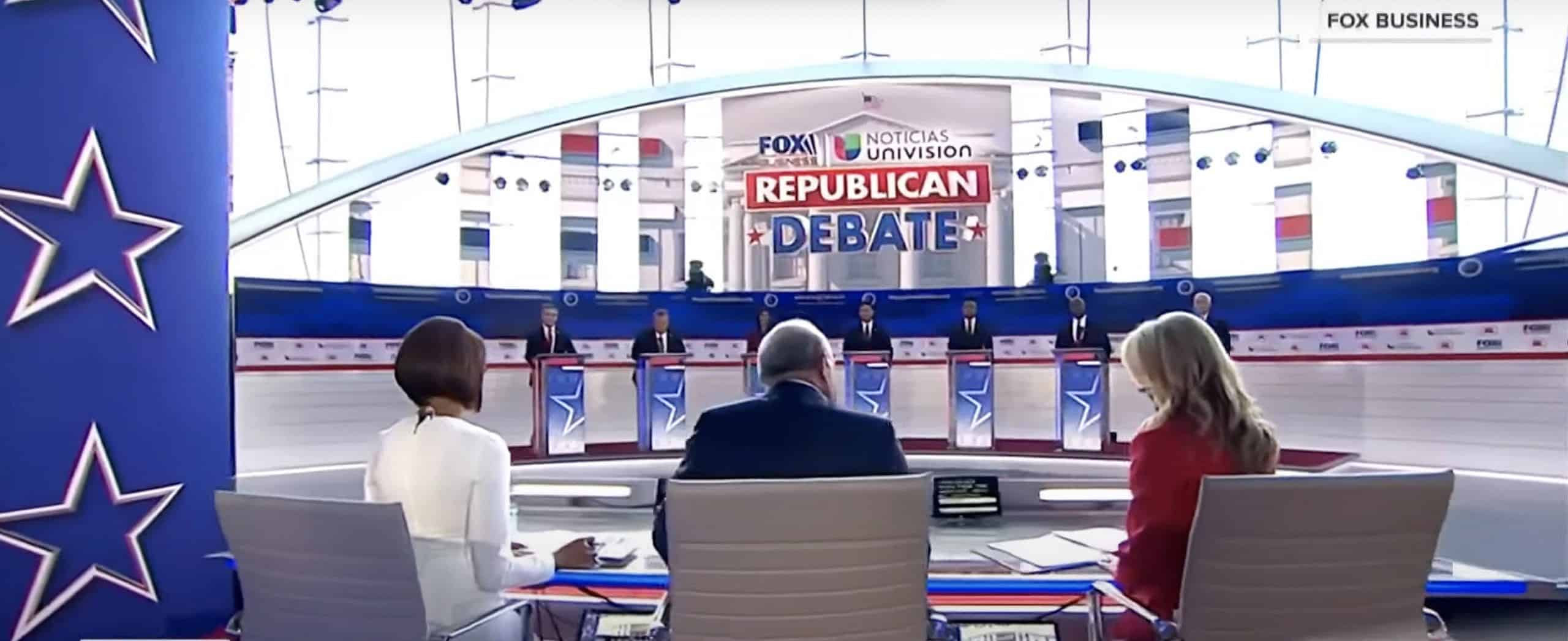 Crime
Rising crime in major U.S. cities "is one of the strongest signs of the decaying of America," said DeSantis in response to a question about a "revolving door" of criminals.
"We can't be successful as a country if people aren't even safe to live in places like Los Angeles and San Francisco," he said. "Just being in Southern California over the last couple days, my wife and I have met three people who have been mugged on the street, and that would have never happened 10 or 20 years ago."
Nikki Haley, the former U.S. ambassador to the United Nations and former governor of South Carolina, was asked about police morale, which is at a record low, and the shortage of law-enforcement officers.
"What we knew in South Carolina was you take care of those who take care of you," she said. "We have to start taking care of law enforcement, but it's not just taking care of them with words. It's making sure that you also follow through on what they do."
"We have to start prosecuting according to the law," she said. "We have to make sure we have the backs of law enforcement, and we have to make sure that we're a country of law and order."
School choice
Perino asked Haley about chronic school absenteeism, as well as low math and reading scores, noting that South Carolina has not enacted universal school choice.
"School choice isn't the only answer, but I'll tell you, it's not out of a lack of trying that we didn't try and get school choice in South Carolina," she said.
"The first thing we've got to do is we've got to make sure we catch our kids back up. We have to make sure they can read. A child that can't read by third grade is four times less likely to graduate high school," she said. "We need to make sure that we have school choice so that there's competition. We need to move all the programs from the federal government down to the states and let states decide what education looks like in their states."
Haley also said that parents must know what is being said or taught to their children in classrooms; that America needs to re-emphasize vocational training; and that schools need to quit spending time on diversity, equity and inclusion, and critical race theory. Instead, she said, they should "focus on financial literacy, on digital literacy and on making sure that our kids know what they need to do to have the jobs of the next generation."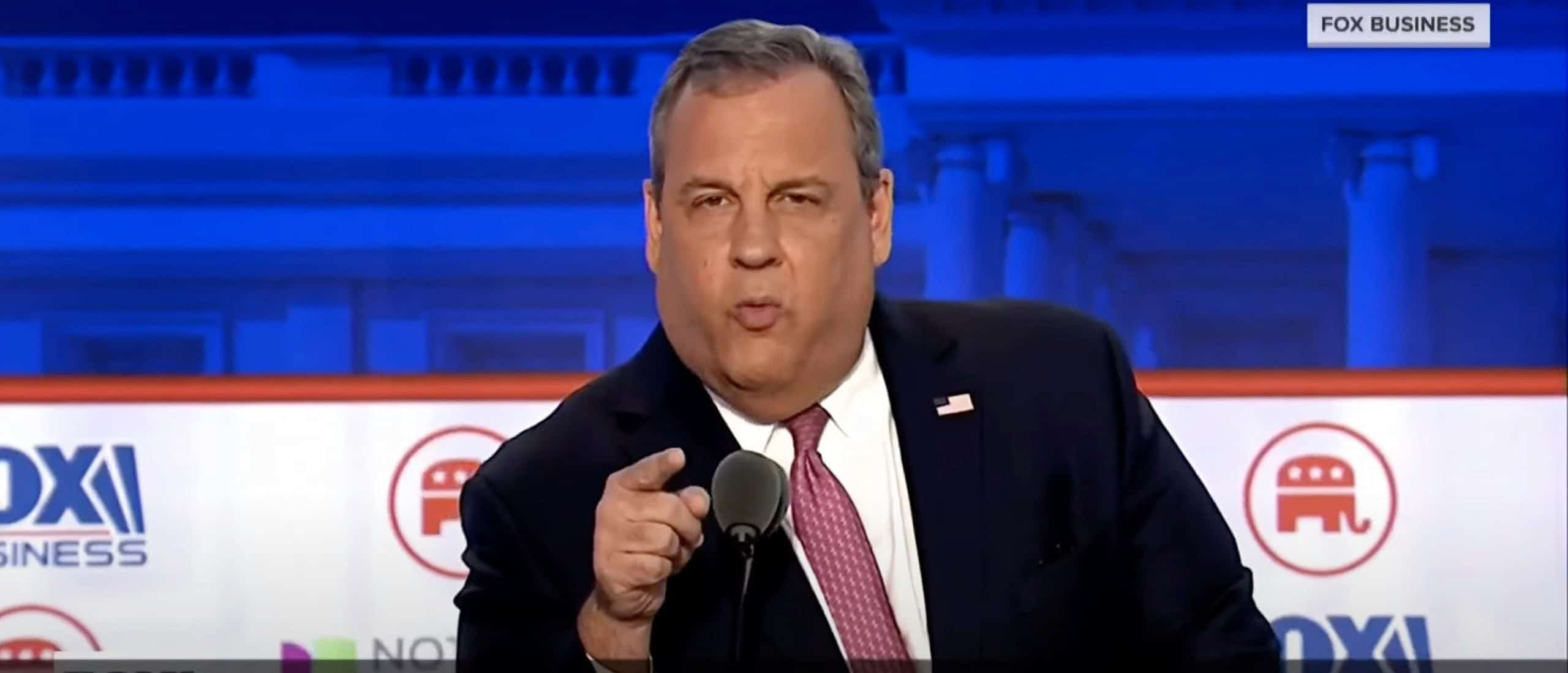 Christie was asked about whether schools should address minority students first. "We have to address all students," he said. "Before I was governor, that gap was close to 50%, and what we did was institute more charter schools and more renaissance schools, and more public school choice in New Jersey with innovative solutions in cities like Camden, where now we took what was [one of] the worst school districts in America during my time."
Proficiency has increased in Camden, N.J., by nearly 40%, he said.
"It can be done when you give people choice," he said. "But let's tell the truth to everybody about what this is. This public-school system is no longer run by the public. It is run by the teachers' unions in this country. Randi Weingarten and her crew are absolutely strangling. They're taking the worst of their members and defending them rather than advocating for our kids." (Weingarten is president of the American Federation of Teachers.)
Christie said that the U.S. president is "sleeping with a member of the teachers union, there is no chance that you could take the stranglehold away from the teachers union every day. They have an advocate inside the White House every day for the worst of their teachers, not for our students to be the best they can be." (It wasn't clear if Christie was speaking literally or metaphorically; Jill Biden, the U.S. first lady, holds an honorary membership to the AFT.)
"A president of the United States has to take on the teachers union," he said. "I did it in New Jersey, and I will do it as president of the United States.
Image: Former New Jersey Gov. Chris Christie speaks during the second Republican presidential candidate debate, held at the Ronald Reagan Presidential Library and Museum in Simi Valley, Calif., on Sept. 27, 2023. Source: YouTube/Today.