"Now that we have caught you in the act, can you please find the strength to condemn Hamas?" says a spokesperson for Israel's Prime Minister's Office.
David Isaac
(JNS)
Israel on Tuesday sharply condemned international organizations for failing to act over the years as Hamas turned Gaza hospitals into terror bases.
"For too long international agencies and officials have been tacitly complicit with Hamas's long-standing abuse of hospitals as human shields," said Prime Minister's Office Spokesman Eylon Levy at a press briefing.
"We are demanding full accountability from them. What did you know? Why did you not say anything? Why do you continue to do propaganda for Hamas instead of doing your jobs?" he asked.
The PMO spokesman singled out Tedros Adhanom Ghebreyesus, director general of the World Health Organization (WHO), and U.N. Under-Secretary-General for Humanitarian Affairs and Emergency Relief Coordinator Martin Griffiths for special censure.
The two criticized Israel Defense Forces operations near Al Shifa hospital in Gaza City on Wednesday, with Ghebreyesus tweeting that "the reports of military incursion into Al Shifa hospital are deeply concerning," and Griffiths posting that he was "appalled by reports of military raids in Al Shifa hospital."
Rebutted Levy, "No, what is disturbing is Hamas putting its headquarters in the basement and the fact that you are covering for it. … No, What is appalling is that Hamas hijacked protected institutions and U.N. agencies did nothing."
"To the alphabet soup of international agencies complicit with Hamas war crimes we say: Your negligence has put lives at risk and has cost innocent lives. Now that we have caught you in the act, can you please find the strength to condemn Hamas? Forget us—you have failed the Palestinian people. You have failed the world. You have all failed at your jobs," Levy said.
Israel's Foreign Minister Eli Cohen expressed his displeasure with Ghebreyesus during a meeting with the WHO director in Geneva on Tuesday. He said Hamas's use of hospitals was "a resounding failure" for WHO and other U.N. organizations.
"Under the noses of these organizations, the largest terrorist infrastructure in the world was established," Cohen said. He demanded that WHO follow the European Union in acknowledging that Hamas uses hospitals and civilians as human shields.
Instead, Ghebreyesus posted a video on X, formerly Twitter, on Wednesday in which he condemned Israel's military operation at the hospital. "Israel's military incursion into Al Shifa hospital in Gaza city is totally unacceptable. Hospitals are not battlegrounds," he said.
Said Levy at the briefing, "International law does not give blanket immunity to terrorists just because they are hiding in the midst of a hospital when hospitals are used as bases for military activity. They lose their protected status after warning has been given and has been ignored."
He added: "We take [international law] very seriously, much more seriously than the people who pretend that it gives Hamas immunity because they don't want Israel to defend itself from the genocidal masterminds of Oct. 7. We know what international law says. We know our obligations, and we know our rights."
Israel has long held that Hamas used Al Shifa as a command center, claiming the terror group has dug out a sprawling tunnel complex beneath the hospital compound to serve as its underground headquarters.
The United States supported Israel's claim on Tuesday. National Security Council spokesman John Kirby said "a variety of intelligence methods of our own" confirm that Hamas has been using hospitals in Gaza, including Al Shifa, as command centers and ammunition storehouses.
Israeli army units operating around Al Shifa revealed on Wednesday that they had found weapons, military technology and intelligence information at the compound.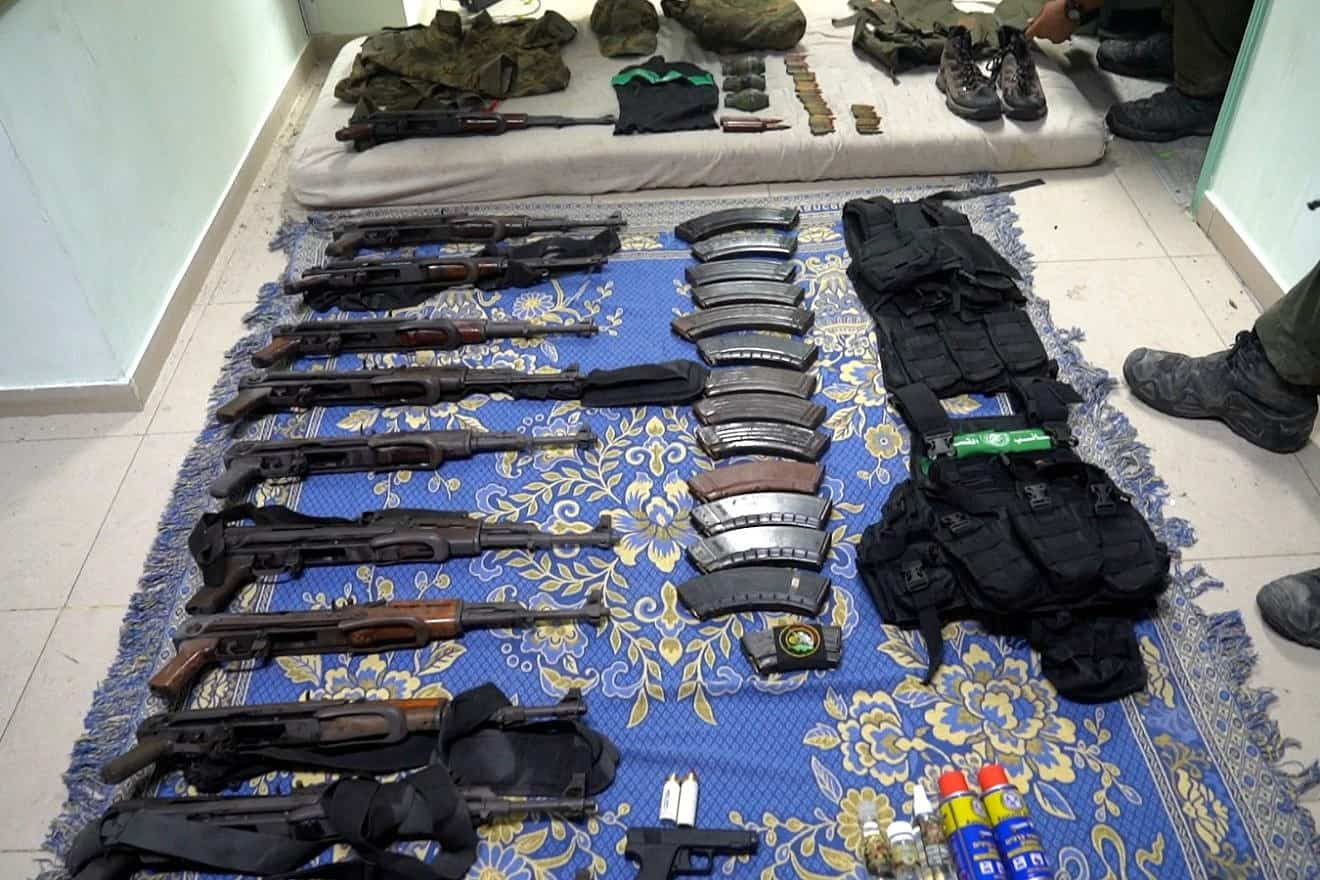 That Hamas uses Al Shifa for terrorist purposes may turn out to be the worst-kept secret in the Gaza Strip.
Dave Harden, a former mission director for the United States Agency for International Development (USAID) in the West Bank and Gaza, tweeted on Wednesday that "it was broadly suspected/understood as far back as 2014 that Hamas used the Al Shifa Hospital complex as a command center and base for operations."
"I didn't have direct evidence, but it was recognized by both trusted Palestinians and Israelis in my network. Further, Hamas used ambulances to move its people. This was based on my conversations with the then head of @ICRC [International Committee of the Red Cross]," he tweeted.
U.N. agencies operating in Gaza have long been accused of corruption. UNRWA, the United Nations Relief and Works Agency for Palestine Refugees in the Near East, the largest U.N. organization in the Gaza Strip, is staffed by Hamas loyalists, according to Kobi Michael, senior researcher at Tel Aviv's Institute for National Security Studies (INSS).
Michael, who co-authored a report on UNRWA in 2020, told JNS: "UNRWA is a very problematic organization. It is fully controlled by Hamas. Hamas uses the facilities of UNRWA for weapons storage and to launch rockets. All of the local employees of UNRWA are Hamas people. Nobody's allowed to work in UNRWA without the permission of Hamas."