The IDF is fighting in heart of Gaza City, and IAF strikes are "affecting Hamas's capability to fight back," according to military spokesmen.
Yaakov Lappin
(JNS)
Israeli Defense Minister Yoav Gallant said in a televised address to the nation on Tuesday that "Gaza is the biggest terror base built by man."
"The whole of Gaza is a terrorism base," Gallant added, noting that Hamas chief Yahya Sinwar is hiding in his bunker, "out of touch with his surroundings."
There will be no humanitarian pauses for Gaza before Israelis held hostage are returned, the minister vowed.
The Israel Defense Forces is operating against Hamas in the heart of Gaza City for the first time in decades, IDF Southern Command chief Maj. Gen. Yaron Finkelman said on Tuesday.
"This generation is the generation of victory. We are fighting at this very hour in significant centers of the Gaza Strip," Finkelman added. "I have just returned from there. For the first time in decades, the IDF is fighting in the heart of Gaza City. In the heart of terror."
IDF Spokesman Rear Adm. Daniel Hagari reiterated on Tuesday night that there would be no ceasefire, as the military presses on with its ground offensive.
"Hamas terrorists tell themselves that there will be a truce. There won't be one. We are moving forward," Hagari said. He added that the IDF has struck more than 14,000 targets in Gaza, destroyed more than 100 tunnel entrances and captured 4,000 weapons.
Gazan terrorists also fired on Ashdod on Tuesday, setting off sirens and the Iron Dome air defense system.
"What we're seeing now, based on our aerial strikes, to some extent it's affecting their capability to fight back," said Lt. Col Richard Hecht, the IDF spokesman to international media.
Hecht displayed videos of secondary explosions of Hamas munitions hidden in civilian areas after Israeli Air Force strikes in Gaza in recent hours.
The IDF seized 375 automatic rifles in recent days in Gaza, some with grenade launchers, 43 heavy machine guns, 1,493 improvised explosive devices (IEDs) and grenades, 427 bomb belts, 760 rocket-propelled grenades (RPGs), 360 cartridges, 98 rockets, five anti-aircraft missiles, three anti-tank missiles, computers, phones and 167 maps, per Hecht.
Discussing humanitarian efforts, Hecht said the Salah al-Din road, a main north-south artery in the Gaza strip which goes to the Rafah border crossing with Egypt, was open on Tuesday from 10 a.m. to 2 p.m., with a temporary closure at 11 a.m. due to Hamas firing near the road. It subsequently reopened.
These efforts serve the IDF's goal of dismantling Hamas by moving civilians south, bringing in humanitarian assistance and focusing on closing in on Hamas in Gaza City.
The IDF also found tunnel shafts and weapons near a giant Ferris wheel and a university. During the operation, Paratroopers Brigade soldiers exposed an underground tunnel shaft adjacent to an amusement park. The soldiers destroyed the shaft, the army said.
With soldiers of the Armored Corps from the divisional combat team of the 7th Brigade, the soldiers also found an underground tunnel shaft and a weapons warehouse near a university. The latter contained chemical materials, RPGs and claymore mines, among other materials.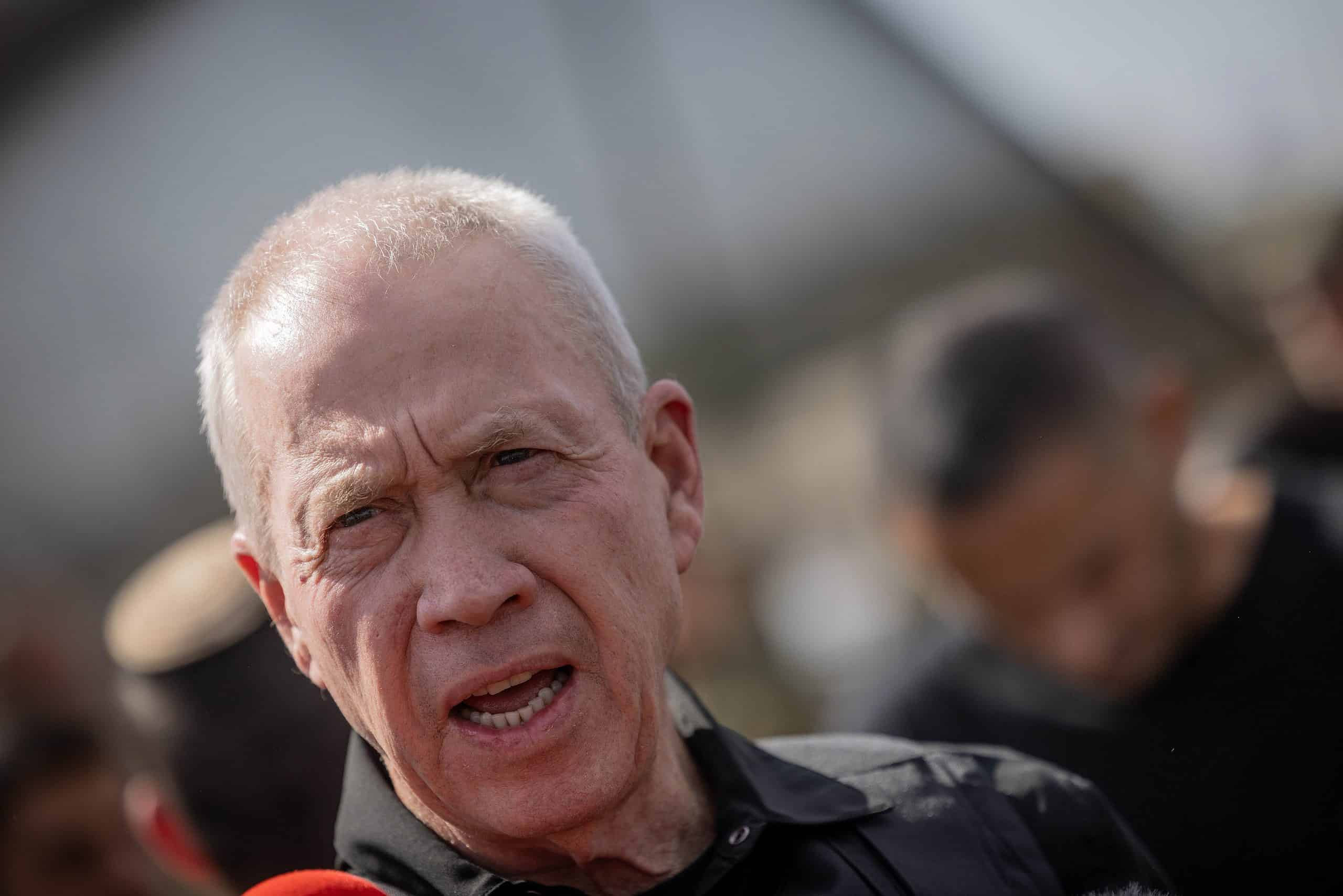 'We found 10 people'
In the past 24 hours, IDF troops secured a military stronghold belonging to the Hamas terrorist organization in the northern Gaza Strip, the military announced earlier on Tuesday. Troops found anti-tank missiles and launchers, weapons and various intelligence materials in the compound.
On Monday, reservists from the Negev Brigade, the 551st Brigade and soldiers from the Yahalom elite combat engineering unit located tunnels in a residence in a civilian neighborhood in the Beit Hanoun area in the northeast part of Gaza, near Sderot. Yahalom soldiers, reservists and soldiers of the Oketz Unit destroyed the tunnels, the military said.
IDF troops also located Hamas terrorists who barricaded themselves overnight in a building adjacent to the Al-Quds Hospital. The terrorists planned to attack Israeli forces from the hospital, according to the military.
IDF soldiers directed an aircraft to strike the Hamas terrorists.
"The attack led to significant secondary explosions, which indicate the presence of a Hamas weapons depot in a civilian area," the IDF stated.
Back in Israel, archeologists are working with Israeli forces, combing through ashes in the southern communities hit by Hamas death squads on Oct. 7, according to Hecht.
"Up to now, we found 10 people who were killed who were considered missing," he said. "This is happening at the Shura Base."
"This is not just about what they did and the fact that they can never do it again. They'd do it again if they could," Hecht added, referring to Hamas.
In the north on Tuesday afternoon, some 20 launches were identified from Lebanon into Israeli territory. The IDF responded with artillery shelling against the sources of the fire.
The IDF maintains its responsive posture, a day after Hamas in Lebanon fired 30 rockets deep into northern Israel, Hecht said.
A terror squad's attempt to fire an anti-tank missile also drew IDF tank fire, resulting in a Hezbollah post being struck.
The IDF Aerial Defense Array also intercepted a suspicious target before it crossed the Lebanon border into Israeli airspace, the military said.
Terrorists fired at an IDF post in the area of Aramshe in northern Israel on Tuesday. No injuries were reported.
During a Tuesday briefing for the Knesset Foreign Affairs and Defense Committee at Gallant's office at the Defense Ministry in Tel Aviv, Gallant stressed that many days of fighting remain ahead.
The minister said that Israel will achieve three main goals: Hamas's cessation as a military and regime framework, the removal of a security threat in Gaza to Israeli citizens and full IDF freedom of operation in the Strip.
'It's only a matter of time'
Col. (res.) Itamar Yaar, former deputy head of Israel's National Security Council and director of Commanders for Israel's Security, a movement of ex-senior security officials founded in 2014, told journalists on a Tuesday call that the Israeli war effort has been mostly in line with plans drawn up after the Oct. 7 attacks. (MediaCentral, a Jerusalem-based nonprofit media liaison service, organized the call.)
Israel updated and adapted existing plans after the Hamas massacre, with two weeks of preparation that included massive air strikes and special forces raids, he said.
The past two weeks "are going according to the plans and the IDF achieved most of it expected to achieve in this period," Yaar added. "It means the IDF is not in a real hurry. The plans mean that they go step by step, and use operational field intelligence, information that they get from software and hardware that they find in the tunnels, buildings." He added that they also use information from captured Hamas terrorists.
"The IDF is destroying every building and site that it sees fire coming from—at ground forces, aircraft and rockets and missiles," said Yaar. Ground forces are also demolishing buildings that they have identified as containing threats.
Bulldozers are highly active as part of this operation—lessons learned from the First Lebanon War in 1982, he added. "This also causes tunnels to collapse. Much of what is underground [is] collapsing through the use of bulldozers."
Hamas terrorists have yet to understand that it's "over for them, and it's only a matter of time until they're dead," he said. "There are still people in Gaza City that you need to fight one by one or capture them."
Since Oct. 21, the IDF has facilitated the entry of humanitarian aid—including food, water and medical and humanitarian supplies—into the Gaza Strip through the Rafah crossing, via Israel's Coordinator of Government Activities in the Territories. That aid is designated for the civilian population in the Gaza Strip.
As of Nov. 6, the IDF said that 665 trucks have entered the Gaza Strip via Rafah, including deliveries of more than 3,000 tons of food, 1,720 tons of medical equipment, 600 tons of equipment for temporary shelters and more than 1.15 million liters (nearly 39 million fluid ounces) of water.
Image: The leader of Hamas in the Gaza Strip Yahya Sinwar hosts a meeting with members of Palestinian factions in Gaza City, on April 13, 2022. Photo by Attia Muhammed/Flash90.  Mandatory credit: Attia Muhammed/Flash90