Israeli Air Force strikes Hezbollah in Southern Lebanon, as the terror group increases mortar and anti-tank missile attacks against the Israeli population.
Yaakov Lappin
(JNS)
The Israeli Air Force, together with Israel Defense Forces tanks and artillery, launched strikes on Hezbollah in Southern Lebanon in retaliation to a broadening of Hezbollah attacks.
Meanwhile, on the Gaza war front, the IDF killed 130 terrorists and destroyed large numbers of weapons that were found during ground operations in the Gaza Strip.
IDF Spokesperson Rear Adm. Daniel Hagari stated on Thursday evening that the IDF has completed the encirclement of Gaza City while attacking many sites serving Hamas's leadership and terrorists.
Asked to address suggestions of a humanitarian ceasefire, Hagari said no such event is on the agenda at this time, adding that "we are at war."
"The soldiers are eliminating terrorists in face-to-face battles. In every place where there are battles, even when difficult, we are in control," he said.
"If we want to see who is behind the war, see the visit of [Hamas senior leader Ismail] Haniyeh to Iran in a private jet and the reception he receives from Iranians; they are pushing proxies Houthis, Hezbollah to distract us from Hamas. We are focused on Hamas, dismantling it and making a major effort to bring back hostages; we will not be diverted," he continued.
Hagari added that "as Haniyeh flies in his private jet, he will sacrifice Gaza for his personal survival like [Hamas senior leader Yahya] Sinwar."
IDF troops have continued to engage in fierce battles against Hamas terrorists in the Gaza Strip while locating weapons and destroying terrorist infrastructure and Hamas military compounds.
In addition, IAF aircraft directed by soldiers on the ground struck a number of military command-and-control centers used by senior Hamas terrorist operatives, the IDF said. The troops struck terrorist infrastructure that was deliberately located in civilian areas, as well as military compounds, it said.
"An Israeli Navy missile boat struck buildings rigged with explosives and observation posts used by the Hamas terrorist organization. In parallel, Israeli Navy forces and IDF aircraft struck terror targets belonging to Hamas's naval forces, including structures that were designated for planning and carrying out terrorist attacks," said the military.
'Continue training to increase force readiness'
Meanwhile, the northern front with Lebanon witnessed an escalation on Thursday, with Hezbollah stepping up attacks and drawing a broader Israeli retaliation.
"In response to the launches from Lebanon towards Israeli territory earlier today, over the last few hours, IDF aircraft struck terror targets belonging to Hezbollah, together with IDF tank and artillery fire," said the military. "The targets struck include military infrastructure, command-and-control centers, rocket-launching posts, weapons-storage facilities and military compounds used by the Hezbollah terrorist organization."
Hezbollah said it attacked 19 Israeli positions on the border using anti-tank missiles and mortar shells.
Hagari said that "the IDF will react with actions, not in words. We are in very, very high readiness."
He added that the IDF is using less than half of its available power and that it is ready for any scenario.
The IDF began expanded "defensive activities along the northern border," on Thursday, and "is ready to implement offensive plans if necessary." The defensive activities include observation efforts, patrols and other proactive operations, it stated.
"The forces are operating near the security fence in order to strengthen defensive efforts and immediately eliminate any threat. This activity is augmented by integrated intelligence collection on the ground and in the air to maintain a high level of readiness and vigilance," said the IDF.
"IDF soldiers continue training to increase force readiness. In addition, broader operational plans are constantly being updated and are ready for immediate implementation should the need arise," according to the military.
"As part of the offensive efforts, forces are operating in the area near the border. As part of these efforts, forces have eliminated terrorists and destroyed Hezbollah's terrorist infrastructure, relying on rapid collaboration with intelligence units. The Northern Command continues to cooperate closely with units from across the IDF. The Israeli Air Force, artillery corps, fire support teams and commando forces are on high alert, and are ready to provide an immediate and forceful response in Lebanese territory to any Hezbollah attack," the military warned.
Hezbollah chief Hassan Nasrallah is due to make a televised speech on Friday.
Also in the north on Thursday, a terrorist cell attempted to launch anti-tank missiles from Lebanon towards the area of Livne in northern Israel. IDF soldiers struck the cell, and a hit was identified. In addition, the soldiers struck two anti-tank missile launching posts in Lebanon.
Furthermore, terrorists launched anti-tank missiles toward an IDF post in the area of Manara in northern Israel. No injuries were reported.
Since the ground offensive began on Oct. 27, some 20 IDF soldiers have fallen.
More than 1,400 Israelis—of whom 334 are military personnel and the remainder civilians—were killed by Hamas in the Oct. 7 mass murders orchestrated by Hamas terrorists. The IDF has stated that thousands of terrorists have been killed since that day.
On Wednesday night, a surface-to-air missile was launched from Lebanon towards an IDF Unmanned Aerial Vehicle (UAV). In response, the IDF struck the terrorist cell that fired the missile, as well as the launch site. There was no damage to the UAV.
In addition, a number of launches were identified from Lebanon towards the area of Har Dov and Mount Hermon in northern Israel. They fell in open areas. IDF artillery struck the source of the launches in response.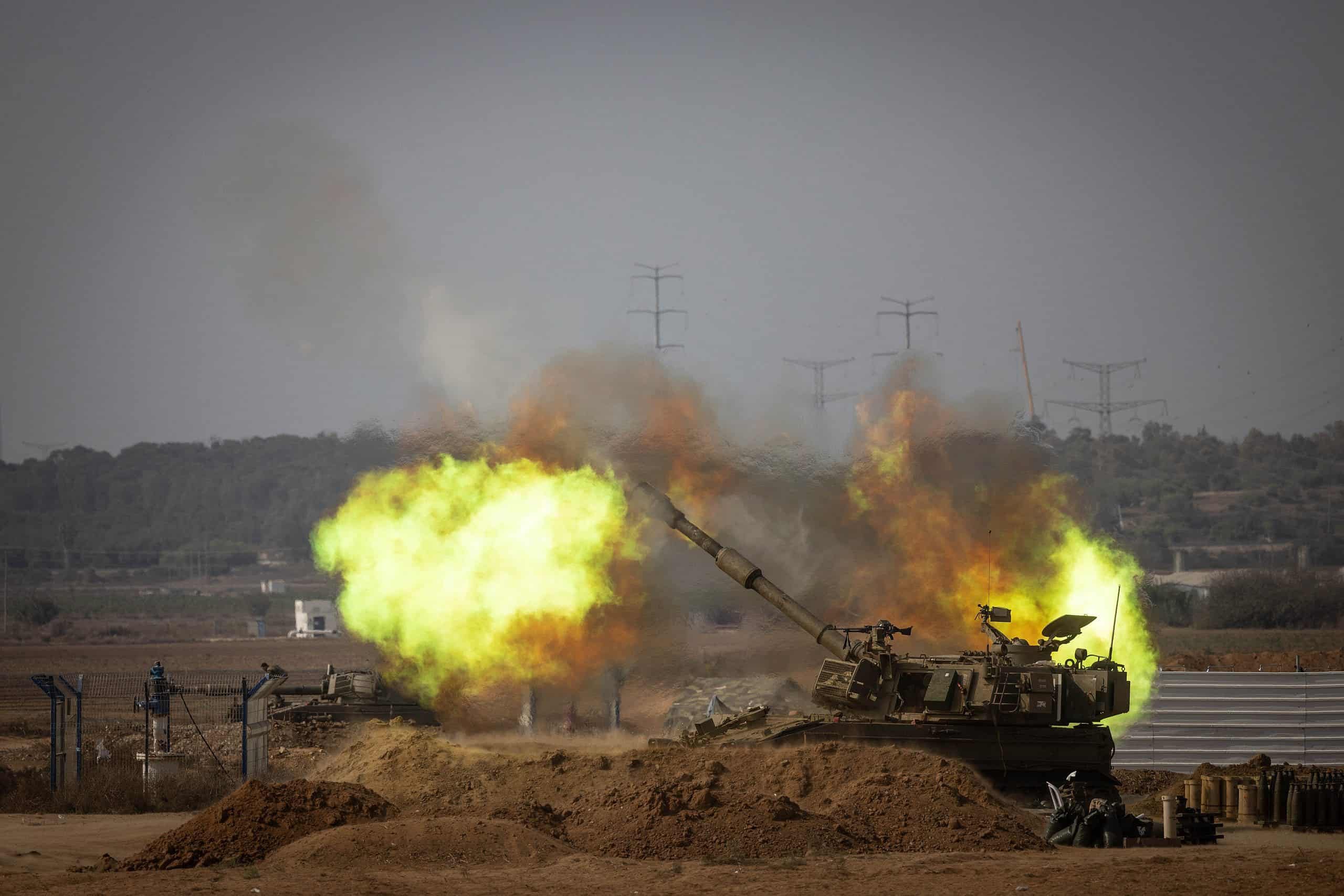 'We will stand strong in the face of every task'
IDF Chief of Staff Lt. Gen. Herzi Halevi said on Thursday that military units are operating in Gaza City and surrounding it from multiple directions as the ground offensive grows deeper.
"Forces are fighting in built-up crowded complex surroundings. This requires professional combat—and lots, of course," he said.
Comradeship and battle spirit are boosting the abilities of the IDF, said Halevi, adding that "the spirit of Israeli society and the righteousness of our path accompany them all of the time, and this is felt very much. It is very important. This war has a difficult and painful price. That is an inseparable part of the promise of our security here."
IDF troops continue to strike terrorists and destroy terror infrastructure throughout the Gaza Strip on Thursday as they broke through Hamas defense lines in the northern Gaza Strip, during which time dozens of terrorists were killed, according to the military.
The Commanding Officer of the 36th Division, Brig. Gen. Dado Bar Kalifa, told IDF soldiers on ground operations in the Gaza Strip: "Together, we will stand strong in the face of every task and every hardship. We will not let victory slip from our hands. The objective is clear. We have an iron will. We are determined and believe in the righteousness of our way. I trust you. This is our war. Today, it is our turn."
The IDF also announced on Thursday that in recent days, a cruise missile launched from the southeast—a reference to Yemen—towards Israeli airspace was detected by the IAF's control and detection systems. After tracking the cruise missile's trajectory, F-35 fighter jets were scrambled and successfully intercepted the missile.
Later that same day, the Arrow Aerial Defense System intercepted a surface-to-surface missile in the area of the Red Sea.
"From the north to the south, the IAF and its Aerial Defense Array are deployed to provide multi-dimensional defense and provide additional layers of protection against a multitude of threats to the State of Israel. IAF soldiers continuously plan and manage defensive responses, and are prepared for any threat from any arena. Israeli active missile-defense operations are part of the overall defensive capabilities and are based on the guidelines of the Home Front Command," said the military.
According to figures released on Thursday by the Meir Amit Center for Intelligence and Terrorism Information, and which addressed the situation as of Nov. 1, Gazan terrorists have so far fired more than 8,500 rockets and mortars at Israel, with 10% of them having failed and fallen in Gaza. The IDF has attacked some 11,100 enemy targets since the start of the war, including operational headquarters and terror squads.
Hagari said on Thursday morning that IDF soldiers "continue to advance in the area of Gaza City, and are conducting close combat battles with Hamas terrorists and expanding the fighting."
Overnight on Thursday, he said "IDF troops fought against a large number of terrorists who tried to ambush them. At the end of the battles spanning a few hours, including fighting from the ground with air support from aircraft and missile ships, many terrorists were killed. The soldiers continue to destroy Hamas's defensive lines in northern Gaza and are working to secure central areas."
Hagari noted that "the battle is advancing as we planned. In every battle, we have the upper hand, and this is how we will continue to advance."
He said "the logistical effort continues. We are continuing to supply our soldiers on the battlefield with ammunition and defensive equipment. The Technological and Logistical Directorate is doing this in full force. We understand that we have to bring more and the forces are receiving what they need."
The IDF also released another intercepted communication between a Hamas Nukhba terrorist who was in Kibbutz Nirim on Oct. 7 and his commander, who is off-site. The commander instructed the terrorist to document the Hamas operatives "playing" with severed heads.
Overnight on Thursday, terrorist cells in the northern Gaza Strip fired anti-tank missiles, detonated explosive devices and hurled grenades at IDF troops. The soldiers engaged with the terrorists with the assistance of artillery fire and tanks while directing an aerial strike from a helicopter and a missile strike from a naval boat. Dozens of terrorists were killed during the battles.
In addition, during ground operations in the Gaza Strip, a terrorist cell fired at IDF troops. The troops directed an aircraft in a strike that killed the terrorists. IDF reserve troops, while receiving covering fire from the Israeli Navy, coordinated with aerial forces and directed an aircraft in a strike that neutralized an additional terrorist squad that planned to fire anti-tank missiles towards IDF soldiers, according to the military.
Over the past few days, IDF soldiers from the 36th Division killed numerous terrorists and directed aircraft strikes on Hamas terror targets, which included both weapons manufacturing and storage facilities, anti-tank missile launching posts, and UAV launching posts.
In Judea and Samaria on Thursday, a terrorist shooting attack near Einav murdered an Israeli motorist, after his vehicle overturned. IDF soldiers have set up roadblocks in the area and are pursuing the terrorists.
In parallel to the expansion of ground activities, a joint multi-branch effort with air and naval forces is taking place to thwart threats on the ground and strike the Hamas terrorist organization, the IDF said on Wednesday afternoon.
During the operational activities, IDF fighter jets, helicopters, UAVs, naval vessels and artillery assist the ground forces by directing and conducting simultaneous airstrikes according to operational needs. Furthermore, joint IDF strikes are being carried out based on real-time intelligence gathered and transferred to the air and naval forces.
During these strikes, dozens of Hamas terror targets were struck, including observation posts, anti-tank missile squads and launch posts, naval vessels and military posts. Furthermore, terrorists were killed, infiltrations into Israel were prevented and terror activities were thwarted.
'There is a diplomatic clock; it's ticking'
On Wednesday night, Eyal Hulata, Former National Security Advisor, said during a video call organized by the Jerusalem Press Club that since Israel started the new phase of ground maneuver, "by and large, it seems that the objectives are advancing properly."
"If Israel wanted to use this ground strike in the maximum impact possible, then more forces would have been introduced in a wider contact in more stages and more fire. Israel is moving very delicately, very slowly," Hulata assessed.
"This issue of time is a dramatic parameter. In my opinion, the Israeli decision-makers are not tuned enough to how little time they might have if things progress the way they want them to. I do not think—as some of the ministers and spokespeople said—that this war can continue without a diplomatic clock. There is a diplomatic clock; it's ticking, and it's ticking fast," he added.
"Looking at foreign capitals: There is a lot of support for Israel but also a growing number of protests against us," cautioned Hulata. "There will come a time where world leaders might think it's problematic to them, and even if it's not justified, they will apply pressure."
Featured Image: Israeli artillery stationed near the border with the Gaza Strip in southern Israel, Nov. 2, 2023. Photo by Chaim Goldberg/Flash90.
---